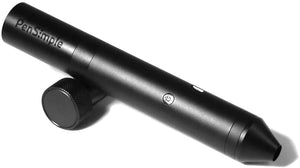 PenSimple - Grinder & Dispenser
Manually grind your favorite herbs in the grind chamber. PenSimple is a revolutionary herb grinder and portable storage vault that makes your ground herbs accessible at the push of a button.
 PenSimple can hold up to 3 grams of your favorite herbs. PenSimple is also spill proof, as the only way the herbs can escape the storage chamber is by the dispense button being deliberately pushed. Precisely dispensing your herbs has never been easier. PenSimple can consistently and precisely dispense your herbs onto or into at a simple push of a button.
---
We Also Recommend