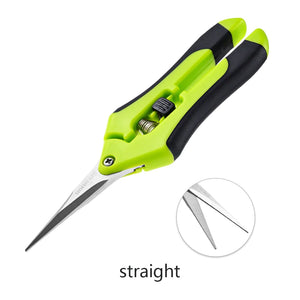 Trimming Scissors
TITANIUM COATED BLADE is built to last no matter what you are trimming. Rose bushes, floral arrangements, vegetables, herbs, or bonsai trees, our scissors will stay sharp and keep you trimming.

COMFORT GRIP HANDLE reduces hand fatigue during use and is ideal for gardeners with arthritis or those with restricted hand strength. Great for long trimming sessions!

BUILT-IN SAFETY LOCK keeps the razor-sharp blades securely closed until you're ready to trim, prune, snip, and "deadhead" those flowers. Makes for easy and safe storage in toolboxes, grow rooms, garden sheds, and greenhouses.

CORROSION-RESISTANT stainless-steel blades will maintain a razor-sharp edge for years of clean, rust-free, and consistent cuts. Gardening pleasure in all outdoor gardens, greenhouses, hydroponic gardens, and grow tents.

GENTLE SPRING ACTION will open and close blades smoothly, snip after snip, to deter blisters and reduce strain on your hands and wrists. Finish pruning and manicuring those flower beds in record time without the pain!
---
We Also Recommend